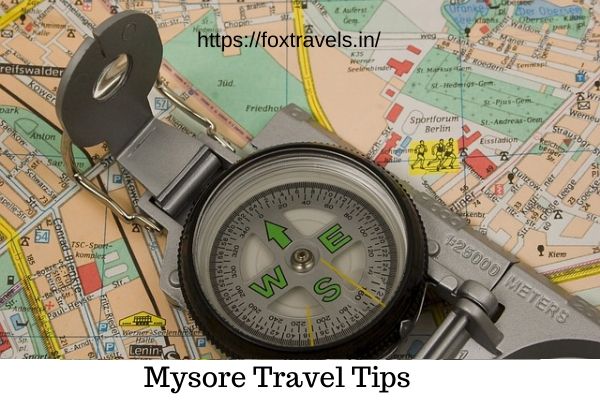 Travel Tips for Mysore
10 Travel Tips to Make the Most out of Your Next Mysore Trip
Travel Tips for Mysore
Introduction: Mysore is popularly known as the "City of palaces". The different interesting places to visit in Mysore attract tourists of all age groups from across the globe. And the year-round pleasant weather means that the traveling season in Mysore is always on.
And just like any other destination that calls out to you, Mysore wants you to know 10 important things before you visit.
10 Travel Tips For Traveling in Mysore 
Here are 10 tips that will help you before traveling to Mysore. 
Reaching Mysore 
Mysore, being a smaller and more laid back city, has lesser number of flights landing and taking off everyday. Therefore, the layovers are longer and the fares, comparatively expensive. 
The best approach, therefore, is to fly to Bengaluru and opt for a taxi or train. Many taxi services in Mysore offer a pickup and drop option from and to Bengaluru airport. 
Looking for the best taxi services in Mysore? Book Now
Book Flight Tickets Well in Advance 
The biggest enemy of instantaneous flight bookings is dynamic pricing. The sooner you book flight tickets, the easier it is on your wallet! Always confirm the flights at least 2-3 months before your desired travel dates. 
Interact with Locals 
Discover more than just your itinerary of places to visit in Mysore. They can suggest the best places to eat, shop and find the hidden treasures of the city. 
Get a taste of all the local delicacies of the city. Bonda, Poori Sagu, Kesari Bath, Payasam and Mysore Pak! 
Mysore Pak could be an ideal sweet treat souvenir as well! 
Need help with the best hotels, restaurants, or taxi services in Mysore? Call Us : +91 76767-64776 
Learn a Few Phrases of Kannada 
You don't need to master the language but learning a few things like "Hello" (Halō), "Goodbye"(Vidāya), "Thank you!"(Dhan'yavāda), "Where's the bathroom?" (Bātrūm ellide) will help you interact better with the locals. They'll like you tried. 
Read About Mysore's History 
Mysore holds a great deal of cultural significance in Indan history. Some of the bravest kings, intellectual artists, poets and architects hail from Mysore. Read up on places to visit in Mysore. It will give you a deeper understanding of this place you've wanted to see for so long! 
Embrace the Weather With Preparation 
Mysore usually has pleasant weather. However, it's better to be prepared for an occasional hot day. Usually, the temperature varies from 20°C to 35°C. It's suggested to carry cotton clothes, a cap, a hand towel, and sunscreen (SPF 50). Always carry a water bottle along with you. Stay hydrated! 
With Monsoon, humidity shoots up a few notches in Mysore. There is an ample amount of rainfall especially from July to 
September. Make sure to carry your umbrella/raincoat, mosquito repellent cream, and an extra towel. 
The temperature in Mysore is fairly pleasant (15°C to 30°C) in Winters. Simple woolen clothes with a jacket would suffice. Slight dryness of the skin is normal. Apply some moisturizing lotion and you'll be good to go! 
Make Extra Copies of Your Important Documents 
Ensure photocopies of your identity proofs, travel tickets, hotel vouchers and medication prescription (if any) are always with you. 
Carry your entry tickets of the places to visit in Mysore listed on your itinerary. These will have the rules and regulations of your sightseeing spots on the trip. 
First Aid Kit 
Regardless of your travel destination, a small first aid kit always comes in handy. A basic kit with sanitizer, band-aids, and your regular medication (if any) will do. 
Your First Aid kit can help you take care of the most minor wounds and problems before you have to go to the doctor (if 
required). 
When You Go Out, Take Only What You Need 
Limit the amount of cash and bank cards you carry with you. This makes things easier for you in case you lose/misplace your wallet. Never take more than one credit card or ATM card with you. 
10.
Purchase Travel Insurance 
If you do only one thing before you leave, make it getting travel insurance. A regular habit of getting travel insurance will come in handy in the worst of times. Look up online or consult with your 
travel agent for options that best suit your needs. 
Conclusion: Traveling is an adventurous pursuit that's best enjoyed when done right. And to do it right when you're traveling to Mysore next, follow the above 10 tips. Do your research. Travel safe and enjoy to the fullest. And if you have any tips for your fellow travelers, drop a line in the comments. 
Meanwhile, if you are confused while planning your next Mysore trip, fret not. We're the experts in customized tour packages, taxi services in Mysore, and local sightseeing.