The wealthiest hill resort in Karnataka is Coorg, which is 120 kilometers from Mysore. Coorg is the ideal vacation location from Mysore due to its outstanding breathtaking beauty, lush vegetation, forested hills, and coffee and spice farms. In today's fast-paced world, we completely get your desire to arrange a memorable trip for your family to Coorg while assuring their utmost comfort and convenience.
Make a reservation for a 4/7/8/12 seater car hire from Mysore to Coorg taxi services, select your desired vehicle, and get picked up by a knowledgeable local driver for sightseeing. Due to its picturesque splendor and verdant mountains, the road from Mysore to Coorg is quite popular with visitors. Coorg is a paradise and an unforgettable vacation spot for those who enjoy the outdoors. You'll want to roll down the window and get some fresh air away from the city's bustle because of nature's fascinating atmosphere. The Kodava community's friendliness and kindness contribute to the tourists' unforgettable experiences.
It takes time to organize travel, arranges to lodge, and ensure clean meals while in Coorg by using many lines of contact. To make travel easier and soothe worries, we have considered every element when designing our cabs from Mysore to Coorg.
We design your trip with our Mysore to Coorg cab services around your needs, goals, and objectives. When visiting a tranquil location like Coorg, you'll want to be stress-free to enjoy your trip. We're here to care for everything so you can focus entirely on the present. You may now go from Mysore to Coorg whenever and at your leisure. There is no need to wait for tickets to be verified. Travel as you'd like throughout this 112-mile route. From Mysore, a road connects you to Coorg. As you travel, you will be joined by lush flora and beautiful hills, and Fox Travels is outfitted with an expert driver, making the drive a relaxing experience. 
Mysore To Coorg Taxi Fare
| Car Type | One Day | 1 Night 2 Days | 2 Nights | 3 Nights |
| --- | --- | --- | --- | --- |
| Tata Indica | 4200.00 | 6000.00 | 9600.00 | 12000.00 |
| Toyota Etios Liva | 4500.00 | 6500.00 | 10500.00 | 12500.00 |
| D'zire / Etios | 4500.00 | 6500.00 | 10500.00 | 12500.00 |
| Tavera | 5600.00 | 7700.00 | 12500.00 | 15400.00 |
| Innova | 6600.00 | 8600.00 | 13500.00 | 16400.00 |
| Innova Crysta | 7200.00 | 9100.00 | 14500.00 | 17400.00 |
| Tempo Traveller | 7400 | 12000.00 | 17500.00 | 24000.0 |
| 18 Seater | 9500 | 20000.00 | 28500.00 | 38000.00 |
Choices for renting a car
With the opportunity to drive in top-notch, top-brand rental automobiles, Fox Travels leases luxury cabs from Mysore to Coorg. Our portfolio, which includes the newest model cars and luxury automobile alternatives at competitive prices, makes us one of Mysore's best car rental businesses. With our wide selection of cars and our wide range of services, including those listed below, we can meet your travel needs by finding you the ideal rental car in Mysore.
HatchBack
The tiny automobiles most suited for your small family, couple's, or group of friends' travel needs are hatchbacks. A hatchback from Fox Travels is more practical for city driving and offers excellent value. Use a tiny car's smaller body to maneuver and park it easily in crowded spaces.
Sedan
You and your companions may travel in luxury when you hire a sedan from Fox Travels. A sedan offers greater room for passengers and a larger trunk than a smaller car, yet they are more affordable than larger vehicles like SUVs. Choose the right kind of sedan from the fleet of Fox Travels according to your demands.
SUV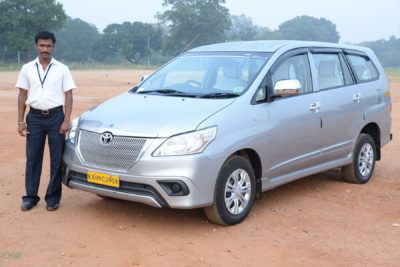 An SUV has lots of legroom and can accommodate all your bags, making it the ideal vehicle for adventure-filled family holidays. Use an SUV from Mysore to Coorg rental vehicle service for a safe, enjoyable holiday or road journey. You may enjoy all the excitement of operating an SUV when you choose one of our outstanding premium vehicles.
Tempo Traveler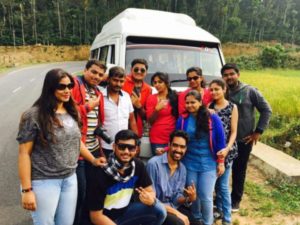 To suit your family vacation or group adventure, rent a Tempo Traveller from Fox Travels. It has good leg and baggage capacity. You can carry everything you need for the journey in a Tempo Traveler while still having room for what you want to bring to the destination.
Mini Bus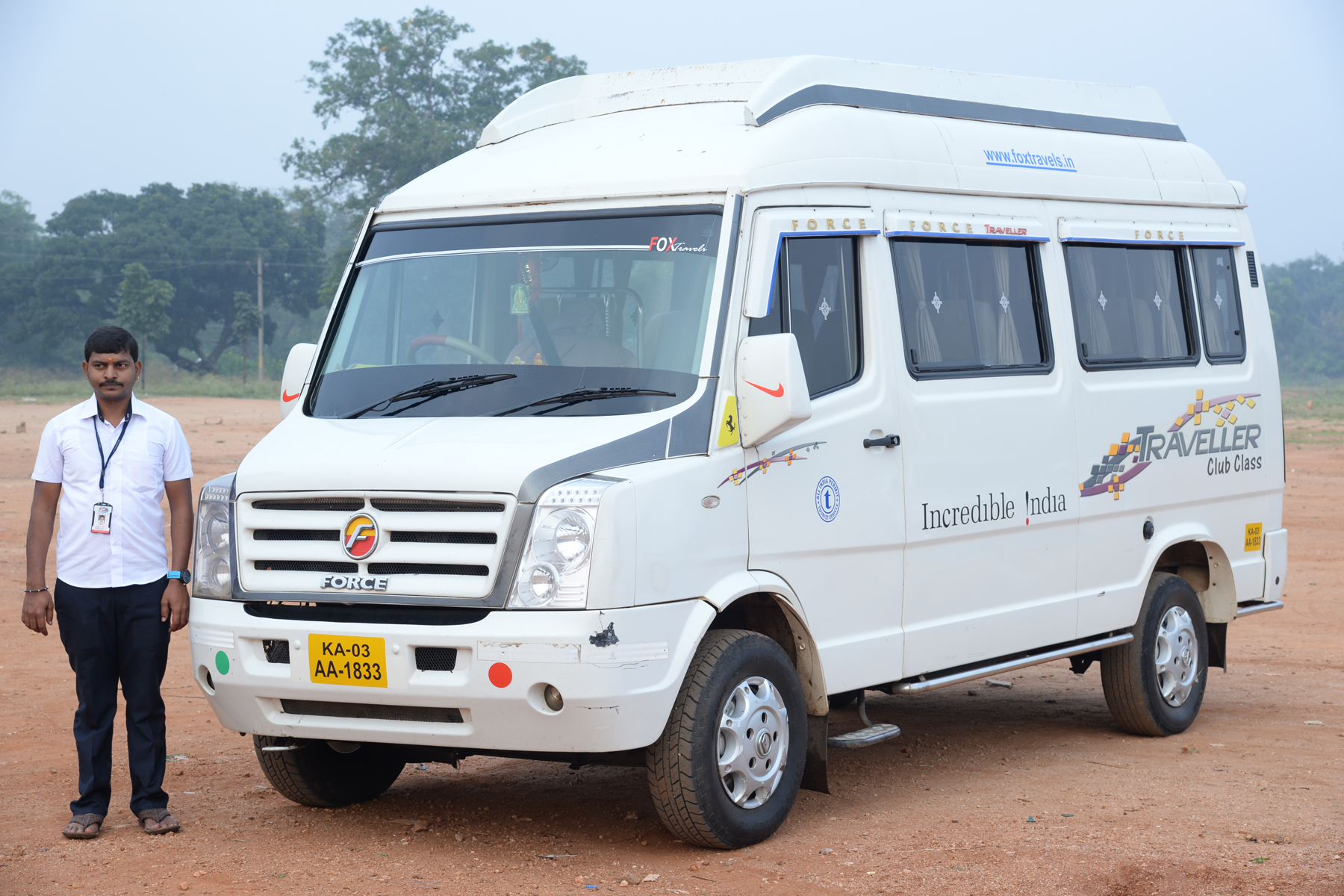 For a family holiday or a school excursion, book a minibus from a vehicle rental company in Mysore and travel to Coorg. Choose a MiniBus for your group transportation on your road trip to save time and money. Your group vacation to Coorg will be much more pleasurable if you go together.
Taxi fare via Mysore to Coorg
We are aware of the chief concern on your mind when scheduling a family trip to Coorg from Mysore. Is it possible to search for a cheap Mysore to Coorg cab fare? Use our Mysore to Coorg cab package online booking to make a quick reservation for your trip. Prepare yourself, board our bus, and enjoy a day that will be both physically and spiritually energizing.
We provide you with a competitive package of Mysore to Coorg cab fares since we believe serving others is serving God. The cost of our Mysore to Coorg cab package includes transportation in a comfortable AC semi-sleeper cab, lodging, sanitary meals, and visits to stunning hills and waterfalls.
Mysore to Coorg Taxi Drop
| Cab Type | Outstanding Rate Per Day | minimum Km  |
| --- | --- | --- |
| Hatchback cars  | 2700.00 | 125 km |
| Sedan | 2900.00 | 125 km |
| Toyota Innova / SUV | 4500.00 | 125 km |
The price will always be as straightforward and transparent as feasible by Fox Travels. As a result, we provide single pricing for your Mysore to Coorg cab, including a maximum number of kilometers and days. As a result, you can budget as you are aware of the cost of the taxi ride in advance. The costs are flexible and clear, providing a win-win situation for you and our affiliated Mysore to Coorg taxi service providers. You are free to select the vehicle of your choice.
Attractions for tourists
The expansive coffee plantations, evergreen wood forests, foggy slopes, seductive peaks, lush green valleys, and an endless stretch of tranquility perfectly describe the highland home of Coorg. This Karnataka district, often known as Kodagu, is one of the smallest and most attractive in the state. It is appropriately referred to as the Scotland of India because of its breathtaking natural splendor and represents the southern extremity of the Western Ghats.
Coorg is the ideal weekend escape you've been searching for, thanks to its quaintness, old-world charm, and laid-back atmosphere, as well as its cool climate, picturesque sights, and challenging terrain. 
Abbey Falls
Abbey Falls, sometimes spelled Abbi Falls, is a waterfall about 8 kilometers from Madikeri. It's surrounded by tall trees, a coffee and spice plantation, and greenery covering. Your attention will be captured by the sound of the river and the scent of the crops. A pool that meets the river Cauvery is created by many little streams converging and dropping 70 feet to create the fall. From the hanging bridge that runs across the fall, you can see the waterfall in all its amazing glory. Close to the bridge is a modest temple dedicated to the goddess Kali.
Fort Madikeri
The storehouse of the city's history and tradition is Madikeri Fort, a well-liked tourist destination in Coorg. Muddu Raja constructed the majestic building at the end of the 17th century.
It is renowned for both its stunning architecture and its expansive vistas of Coorg's verdant surroundings. The Kote Maha Ganapathi temple and the on-site museum run by the State Archaeological Department are the most visited areas of the fort.
Honnamana Kere Lagoon
Honnamana Kere Lake, the biggest lake in Coorg, is renowned for its stunning landscape. Because of the spectacular natural setting of the lake against the backdrop of the mountains, cliffs, and coffee plantations, it is a photographer's heaven for those who specialize in nature photography. Both locals and tourists visit there. A temple to the goddess Honnamma is situated next to the lake. Other choices include going fishing or taking a leisurely lake trip.
Iruppu Falls 
The Brahmagiri Mountain Range, in the Karnataka district of Kodagu, is home to the freshwater cascade known as Iruppu Falls. The name of the tributary of the Cauvery that originates from these falls, Lakshmana Tirtha Falls, is another name for them. It is a well-known tourist destination that draws many visitors due to its breathtaking natural beauty.
Falls Mallalli
The magnificent Mallalli Falls is a milky white waterfall located in the Kodagu district of Karnataka. Trekking is the greatest method for getting to the Mallalli Falls site. The path is nice and leads to the waterfall through big concrete stairs. The government has made the waterfalls easy for visitors and easily accessible. The falls have two tiers and descend more than 1000 meters from the River Kumaradhara. The path is nice and leads to the waterfall through big concrete stairs.
Using Fox Travels: What to anticipate
Fox Travels take pleasure in offering our clients the safest assistance possible. We work hard to provide the best, most trustworthy, and most comfortable service for our customers traveling from Mysore to Coorg. Fox Travels will be your taxi companion for pickup and delivery, so you can unwind knowing that. We let our clients select the pick-up and drop-off sites inside the city limits without charging extra for extra miles. Since keeping clients happy and upholding safety standards are our top objectives, we follow a detailed process when employing new drivers that includes paperwork, suggestions, and proper driver training. Additionally, frequent inspections are carried out to guarantee that the cabs are kept tidy and to a high degree of quality.
Why choose Fox Travels
Fox Travels has established itself as a reliable taxi/cab company for Mysore to Coorg road travels. As a result of the numerous things we have accomplished in the past, Fox Travels has become a well-liked Cab/Car Service for Mysore to Coorg trips. The following are a few main justifications for patrons to use our cabs on the Mysore to Coorg routes.
Lowest rates for cab rentals
Whether you're seeking to rent a car for a Way Trip or a Round Trip from Mysore to Coorg, Fox Travels offers the Lowest/Cheapest taxi costs.
Customized Rental Car Packages
The traveler's needs are considered when Fox Travels creates a customized Mysore to Coorg cab package that covers on-road costs like tolls, parking, and driver gratuities.
Amazing Savings, Deals, and Discounts
On all Mysore to Coorg cab/taxi reservations, Fox Travels continuously offers the finest discounts and incentives to the customers, including up to $500 in Cashback, a flat discount on weekend cab bookings, and movie or food vouchers on the online cab booking (365 days per year).
Various methods of payment 
Fox Travels offers a variety of flexible payment options for Mysore to Coorg taxi reservations, including the following: 
Pay just 20% of the total price in advance online; the remaining 80% can be paid to the driver personally during the trip if he so requests.

When ordering a cab for a trip from Mysore to Coorg online, you have the option of paying in full in advance.

If you decide to book a cab at the last minute for Mysore To Coorg, you can pay the driver in full. 
Those who book cabs from Mysore to Coorg with Fox Travels also get on-the-road help assistance. We will give you a replacement car or cab from the closest available garages if the car breaks down while you travel. Additionally, buyers won't pay anything extra.
FAQ's
If we hire

cabs from Mysore to Coorg

with you, how will your driver be fed and housed?
You have an option. Based on the quality of our driver's service, you are free to make your own choice. It's not necessary.
Is it safe to travel by road from Mysore to Coorg?
Traveling by car from Mysore to Coorg is undoubtedly safe and simple.
How far is Coorg from Mysore?
It takes 2.30 hours to go by car from Mysore to Madikeri, the capital of Coorg, traveling through Hunsur, Periyapattana, Kushalnagar, and Suntikoppa on NH 275.