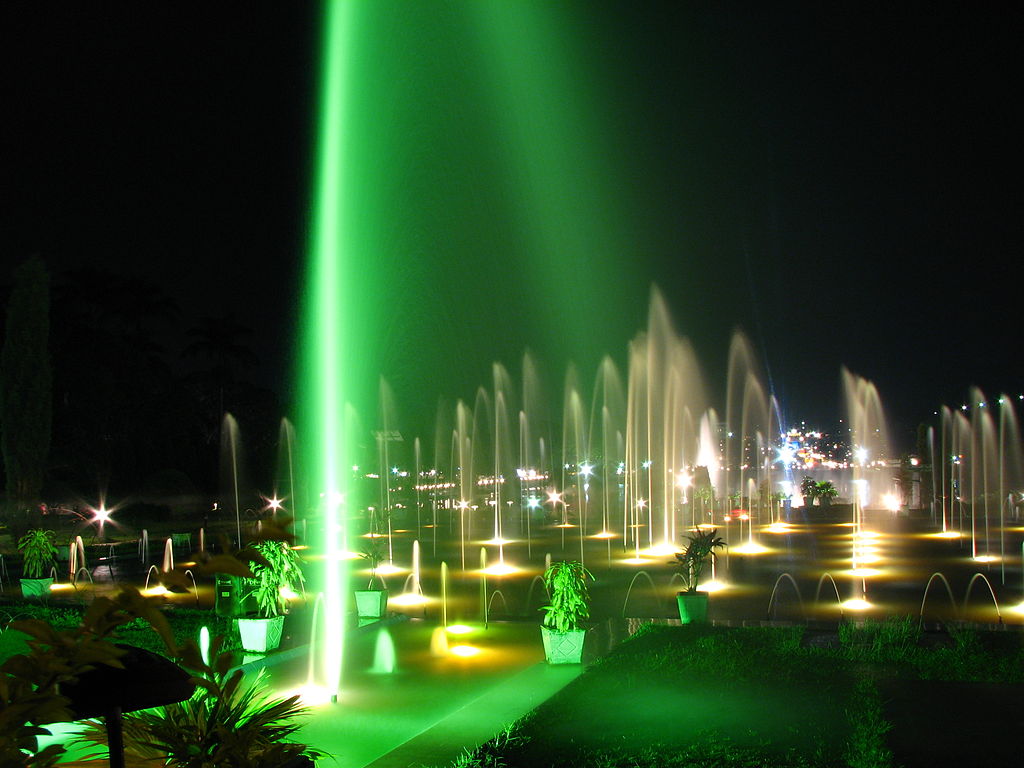 Brindavan Garden
 Brindavan Garden
 Brindavan Garden Cab Packages From Mysore
This is India's first irrigation dam, built in 1924. Sir. M. Vishweswariah, the engineer who designed and built this dam, has shown his acumen in converting a dam site into a beautiful garden with colorful fountains and ponds downstream. The dam is named after the then Maharaja of Mysore, Krishnaraja Wodeyar,
who financed this novel project. Krishnaraja Sagar (KRS) represents a marvel of civil engineering achievement in pre-independence India and was among the first in the world to use automatic sluice gates. There is a boating pond to cross the dam from the south bank to the north bank and at the northern edge are the dancing fountains. The dam is over 3 kms long and is constructed at the junction of three rivers – Kavery, Hemavati and Lakshmanathirtha.
The tranquil ornamented gardens are laid out below the Krishnaraja Sagar dam and are a popular picnic spot illuminated in the evenings. The musical fountains and colourful lights turn this place into an enchanting fairyland in the evenings. The best season to visit KRS is June-July with the monsoon bringing in plenty of water that gushes through the sluice gates, which open automatically after the maximum head of 124 Feet is reached.
The beauty of KRS can be enjoyed all round the year except during the summer months. At 7.00 PM the garden lights up with fountains shining to different colored lights. Adding to the charm the variety of flowerbeds glow in the light. This spectacular sight makes Brindavan gardens unique and it lasts till 8 PM every day (longer during week-ends). Every evening the gardens come alive in a burst of dazzling colours and illumination when twirling and dancing fountains lend an atmosphere of enchantment to this fairyland. Brindavan Gardens is a must visit location for every tourist visiting Mysore.
Illumination:
Wednesdays 7:00 P.M to 7:55 P.M. Saturdays and Sundays: 7:00 P.M to 8:55 P.M
Mysore To Brindavan Garden Krs Taxi Charges
| Type Of Cab | 4 Hours 40 Km's | Extra Km's | Extra Horus |
| --- | --- | --- | --- |
| Tata Indica 4+1 | 800.00 | 8.00 | 80.00 |
| Toyota Etios Liva 4+1 | 900.00 | 9.00 | 80.00 |
| Swift Dzire 4+1 | 1000.00 | 10.00 | 90.00 |
| Toyota Etios 4+1 | 1000.00 | 10.00 | 90.00 |
| Tavera 8+1 | 1200.00 | 10.00 | 100.00 |
| Innova 7+1 | 1400.00 | 12.00 | 100.00 |
| Innova Crysta 7+1 | 1500.00 | 13.00 | 100.00 |
| Tempo Traveller 12+1 | 1800.00 | 15.00 | 150.00 |
To book our Mysore To Krs Taxi Packages, click here  and send us your query.

For A Quick Contact Call : +91 76767-64776