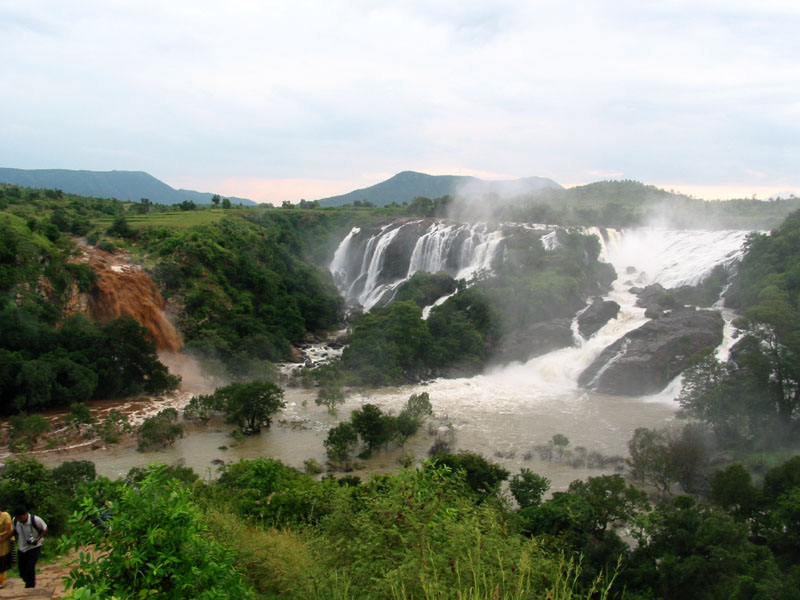 Shivanasamudra
About 65kms east of Mysore, you will find the tiny island town of Shivasamudram in Mandya district. Here the River Cauvery meanders to fall into cascading Shivasamudram Falls. This sparking waterfall flows through the abundant sylvan forest of Karnataka in Deccan Plateau, plunges 320 feet into a gorge into a spate, breaking into a cloud of misty foam.
The falls are 893 meters wide. Shivanasamudram consists of the island town, The river is divided into two waterfalls. The best waterfall time is July to October during the monsoon season.
The two waterfalls are Bharachukki and Gaganachukki. In Gaganachukki people step down to see the waterfall in front of the eyes. some people will enjoy seeing the falls, some of them will play in the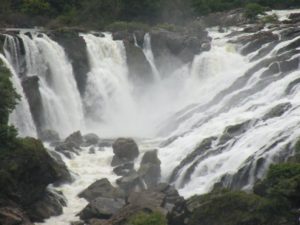 waterfalls.
There down after passing the steps you will get snacks. The people buy and eat jalapeno peppers which is delicious to eat for that weather. After playing in the water people sit and relax for a while. Bharachukki falls is near to Gaganachukki falls should travel a few kilometers from the place.
This is due to the splitting of the Cauvery river widely in two portions. Gaganachukkii falls look awesome when we view from the watchtower the falls is glorious and excellent. Near Gaganachukki falls there is Darga Hazrath Mardane Gaib also. Famous Muslim sacred place where people offer to pray with peace of mind.
Mysore Shivanasamudra One Day Tour By Car / Taxi Charges
| Car Type | Outstation rate / 250 Km's in INR | Driver Batta(Out station) in INR | Out Station Limit 250 Km's | Toll / Parking |
| --- | --- | --- | --- | --- |
| Tata Indica | 8.00 | 300.00 | 250 Km's | Extra |
| Etios Liva | 9.00 | 300.00 | 250 Km's | Extra |
| Dzire / Etios | 10.00 | 300.00 | 250 Km's | Extra |
| Tavera | 11.00 | 300.00 | 250 Km's | Extra |
| Innova | 13.00 | 300.00 | 250 Km's | Extra |
| Innova Crysta | 14.00 | 300.00 | 250 Km's | Extra |
| Tempo Traveller | 14.00 | 400.00 | 300 Km's | Extra |
To book our Taxi packages Mysore To Shivanasamudra, click here and send us your query.

For A Quick Contact Call: +91 76767-64776